Profile 👩
Arguably the most important section of Doyenne, the profile page is where I spent much of my time designing. For mentees like Allie, it allows her to learn more about potential mentors and provides all necessary information to allow for informed decisions on which mentors to request. For mentors, they are able to review a prospective mentee's profile to learn about their interests and background. Just as mentees can request mentors, mentors are able to browse mentees and request to mentor them.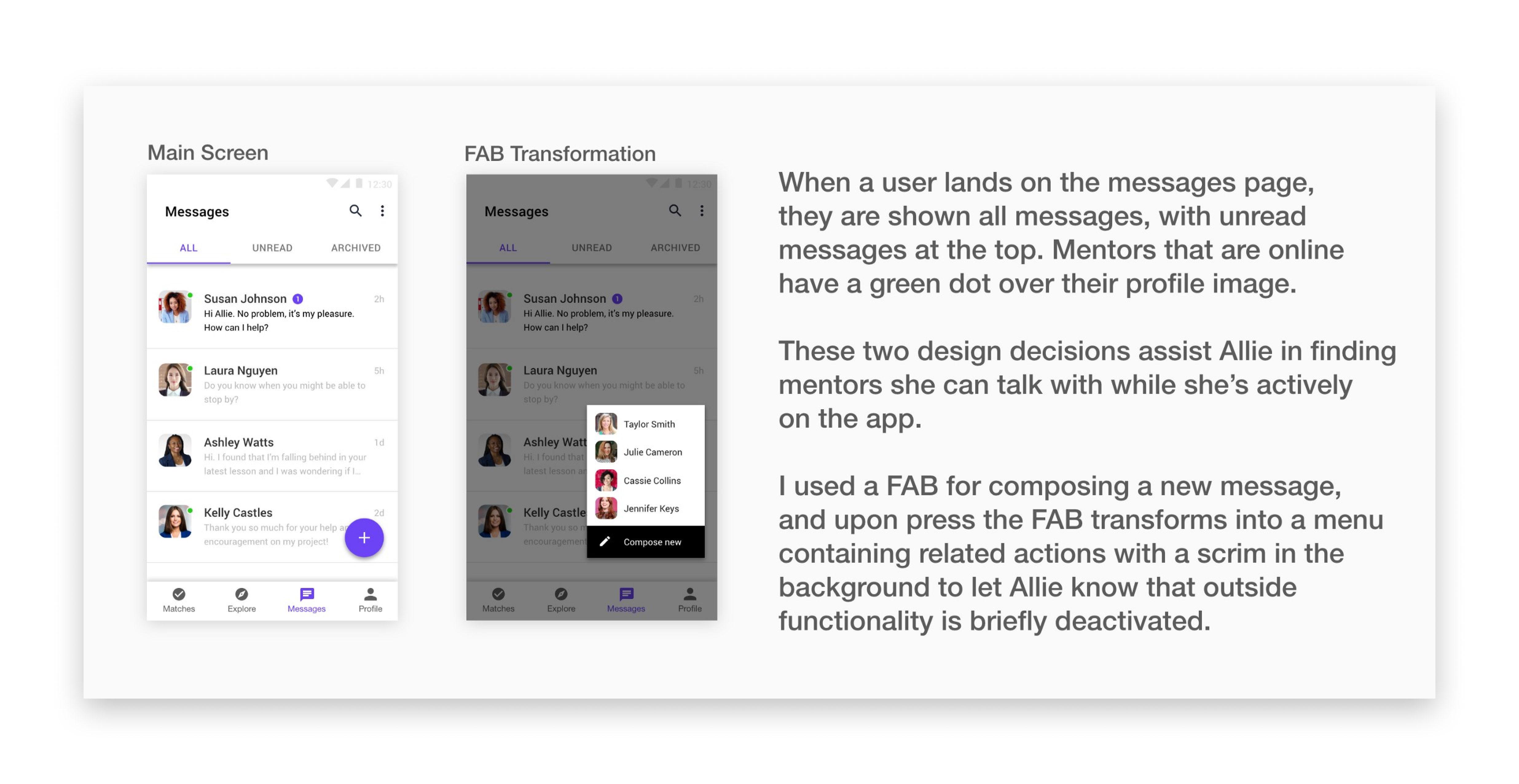 One of the challenges I faced was prioritizing information shown on profiles so users can quickly read through to decide whether the mentor or mentee is a good fit. The design of the profile page was determined through my competitive analysis and an activity I presented 5 potential users. To validate what information is most important on a profile page, I created a disassembled profile page and asked each potential user to assemble a profile page that would provide them with the most value.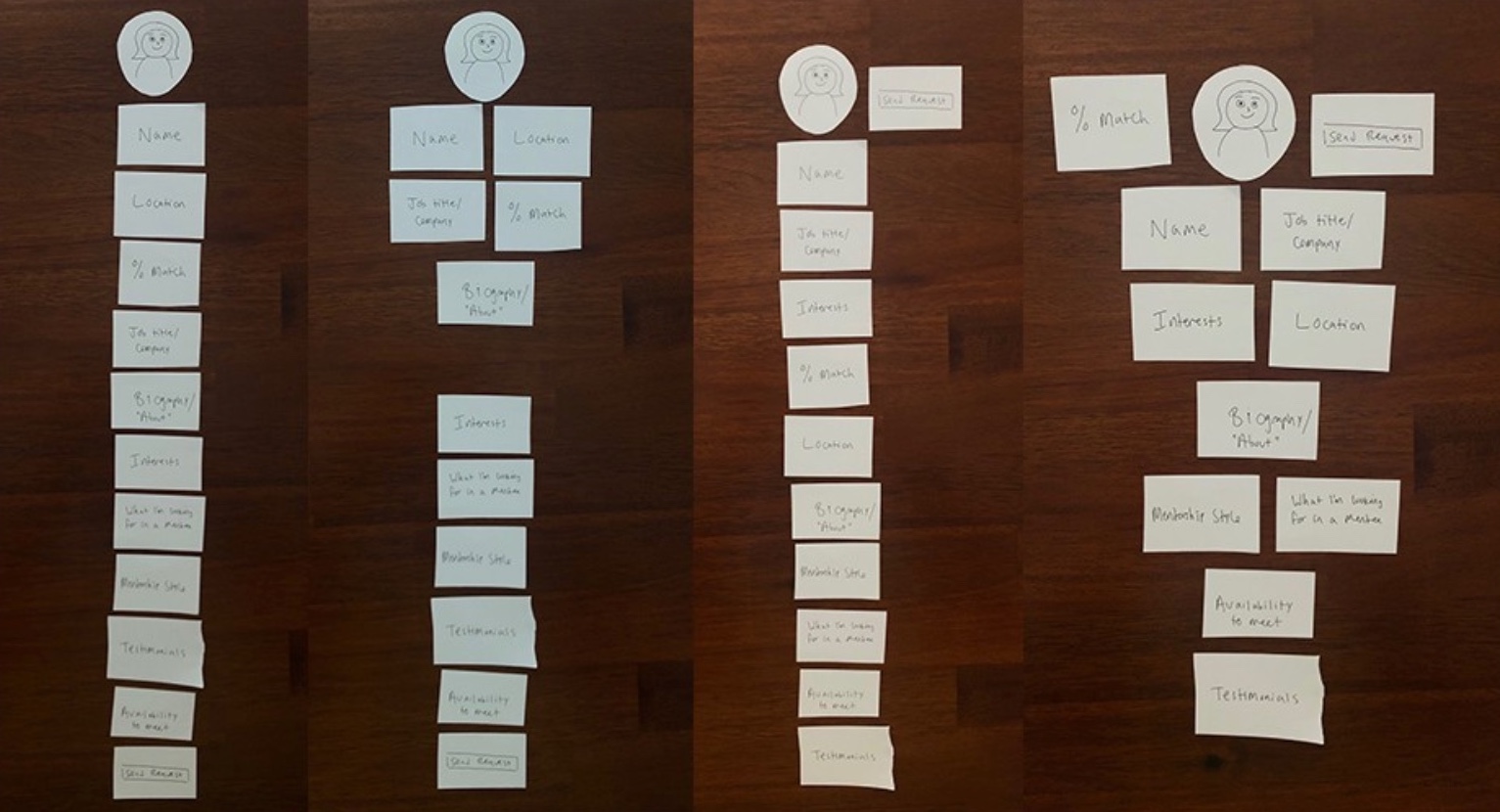 Depending on when a mentor or mentee is using Doyenne (i.e. first time user, request sent, request pending, request accepted), profiles will appear slightly different. I will be focusing on Allie being a first time user browsing Susan Johnson's (a mentor) profile. Subsequently, I will show what Allie's profile page looks like to a mentor and the different variations of the profile page.
The mentor profile (Susan)
Mentor profile prototype (Video)
A concern some potential users raised to me during the research phase was profile and user authenticity. Since anyone with a valid email address can create an account, and the intended audience for Doyenne is females, verifying your account is a top priority. This will follow the user flow that apps like Bumble use. Once verified, a blue badge with a star is displayed beside their name. Shared interests provides Allie insight into topics she and potential mentors have in common. When a mentor creates an account, they are also asked to select interests.
The "About Me" section allows users to add personality and thoughtfulness to their profiles, and it helps to differentiate users from other profiles and establish credibility and trust. Further, Doyenne is a global app, and females who live anywhere in the world can create an account to connect with prospective mentors and mentees. Although, there are scenarios where local coffee chats and in person meetups are preferred. By default, availability will not be displayed until a match is made. This is because it makes most sense to display availability to a mentee and mentor who are matched and will be communicating more frequently, in addition to some privacy concerns from a mentor's perspective.
The mentee profile (Allie)
A mentee's profile appears fairly similar to a mentor's profile, with some differences that I've highlighted below.
To reduce friction of getting into the app, I decided to keep verifying your account and the full questionnaire until after you have created an account. This will appear as a status bar at the top of a mentee's profile.
Profile progress (Video)
Once Allie is connected with a mentor or joins a group, the homepage of the app will show her mentors and groups first, followed by an outlined button to explore other mentors and groups. Suggested mentors will now appear in the explore section of the app, with the highest matched mentors appearing at the top of the list. One important thing to note with finding mentors and requesting them to mentor you is that a mentee can have multiple mentors at once. For example, if Allie wants mentoring on career progression, personal life, a project she can openly discuss, or about one of her hobbies, one mentor might be unable to provide expertise in all of those areas.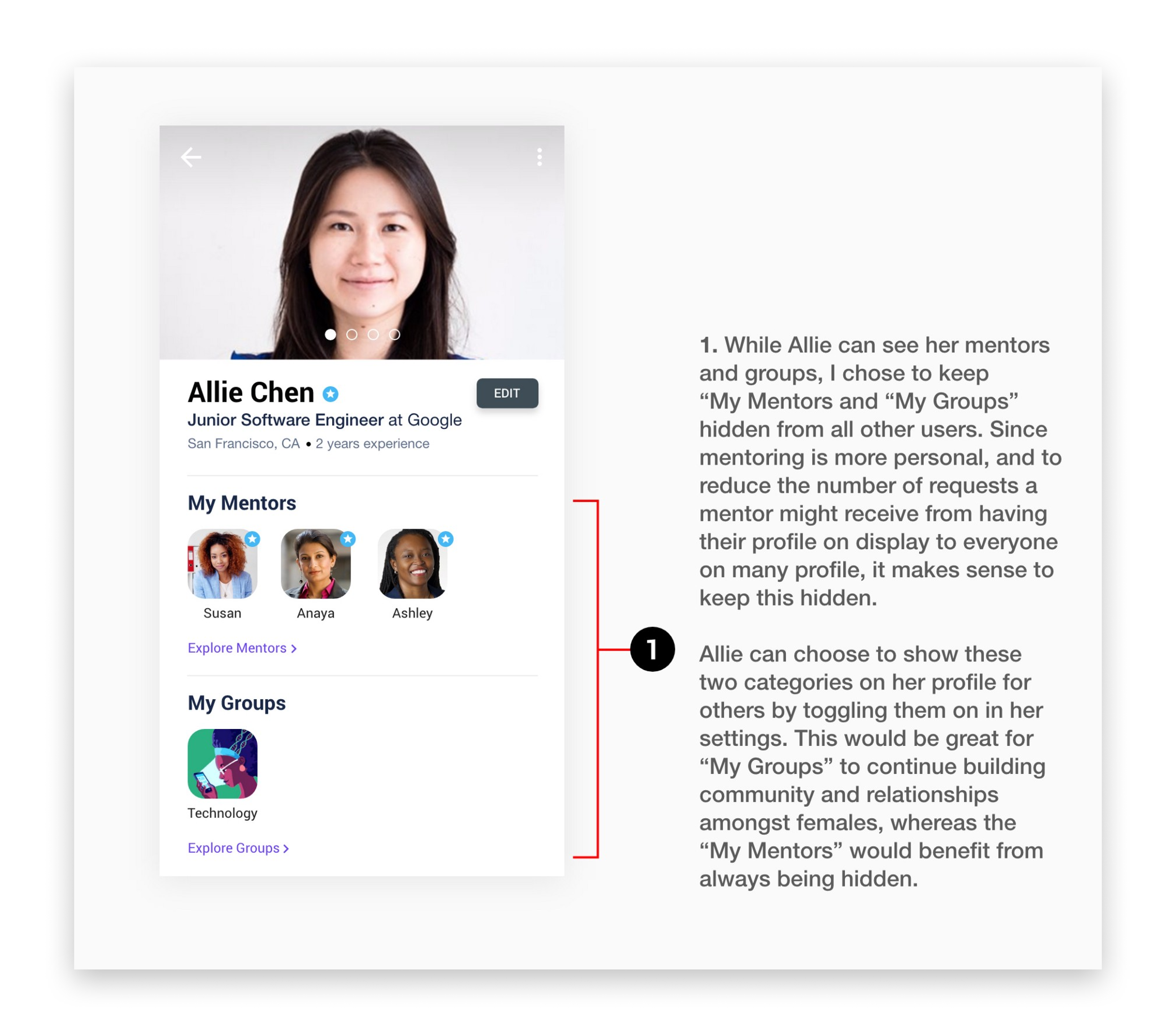 Profile page variations
Depending on the part of the primary user flow a mentee or mentor is at, elements on profile pages will appear slightly different.