Discover 🔎
My initial focus for this project was understanding our users, the business and competitors. Since there are many different user personas, in addition to an endless list of competitors, an early understanding of the returns space overall was needed. We also had a general idea of the problem we needed to solve, but we didn't have a thorough understanding on the details of the problem.
Understand users
We performed generative research early on to develop a deeper understanding of users to assist in finding solution opportunities. This included 7 interviews with participants who have previously made a return on eBay. While we included some questions on their experience with eBay, we wanted to gain an understanding of who eBay's customers are as humans, and what they experience day to day.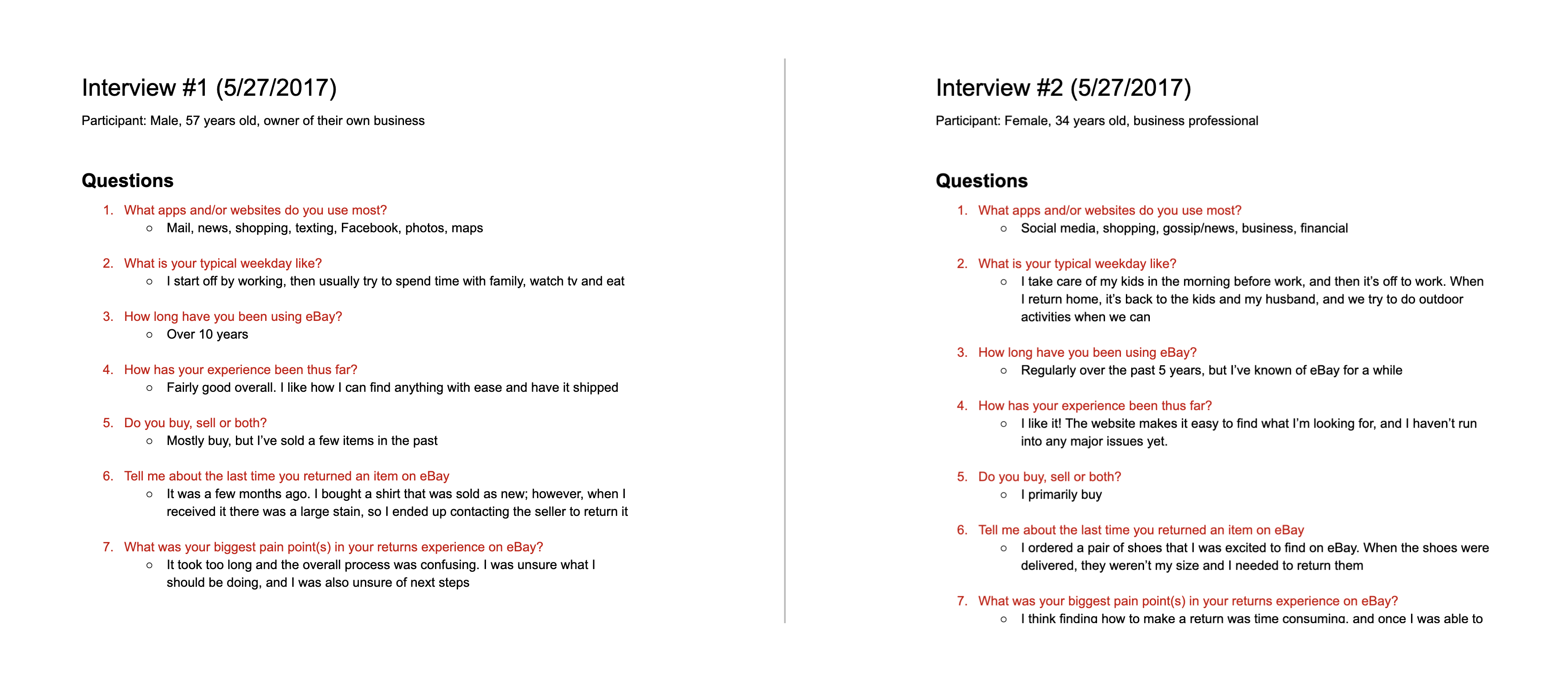 Leverage business data
Data is one of the most important aspects to consider when making design decisions. The data I used to inform my designs are from previously recorded company metrics, survey results, usability testing, direct customer feedback and more. The main data point I call out below is why is improving returns important for eBay? Although returns functions sufficiently on eBay, it makes up 50% of the customer service calls, and costs eBay approximately 102.2 million dollars a year.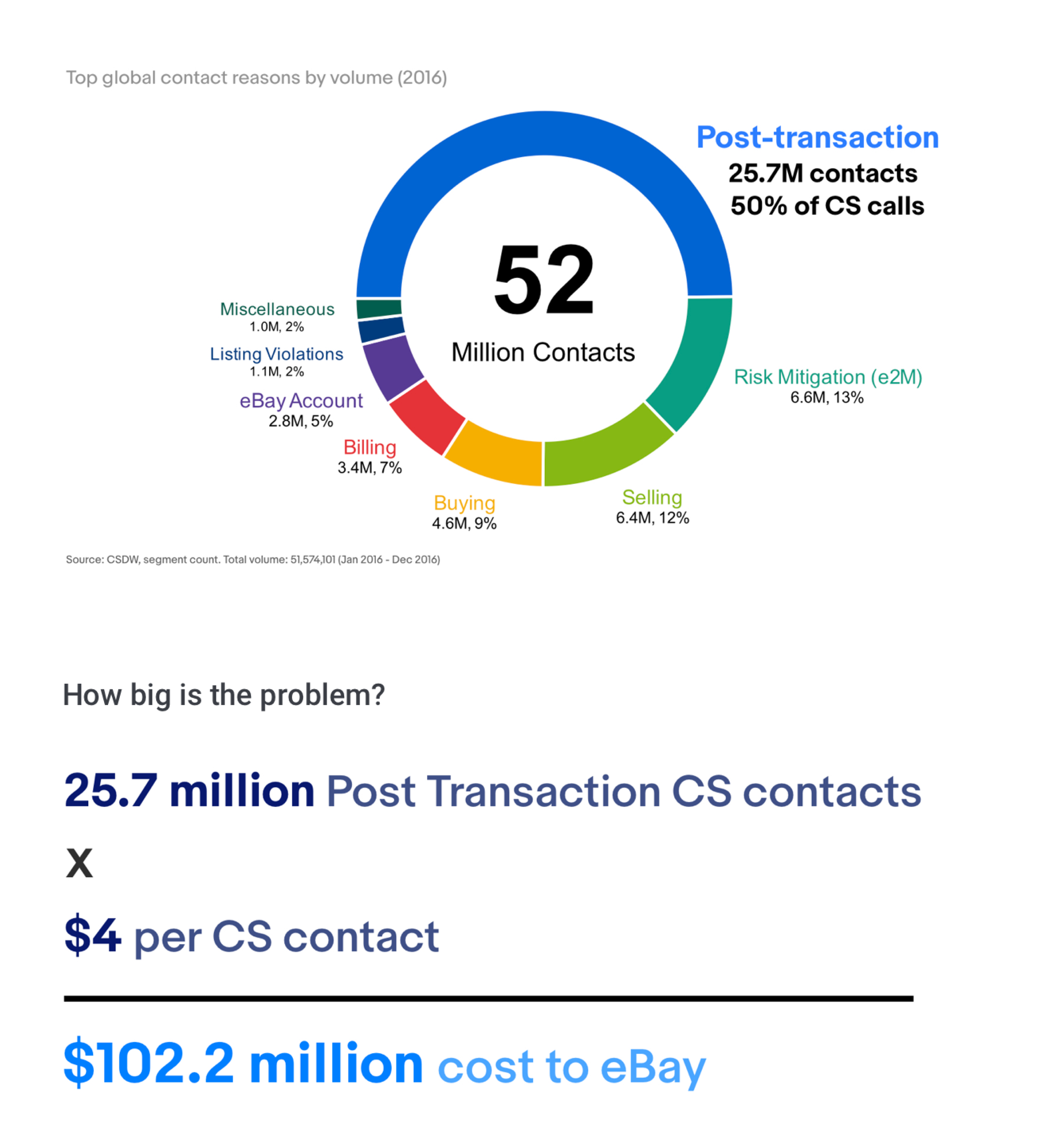 Evaluate the current experience
To improve your product, you need to fully understand and evaluate what you're working with. I performed an evaluation of the current experience, specifically looking at the overall information architecture, various workflows, user experience, UI and copy inconsistencies.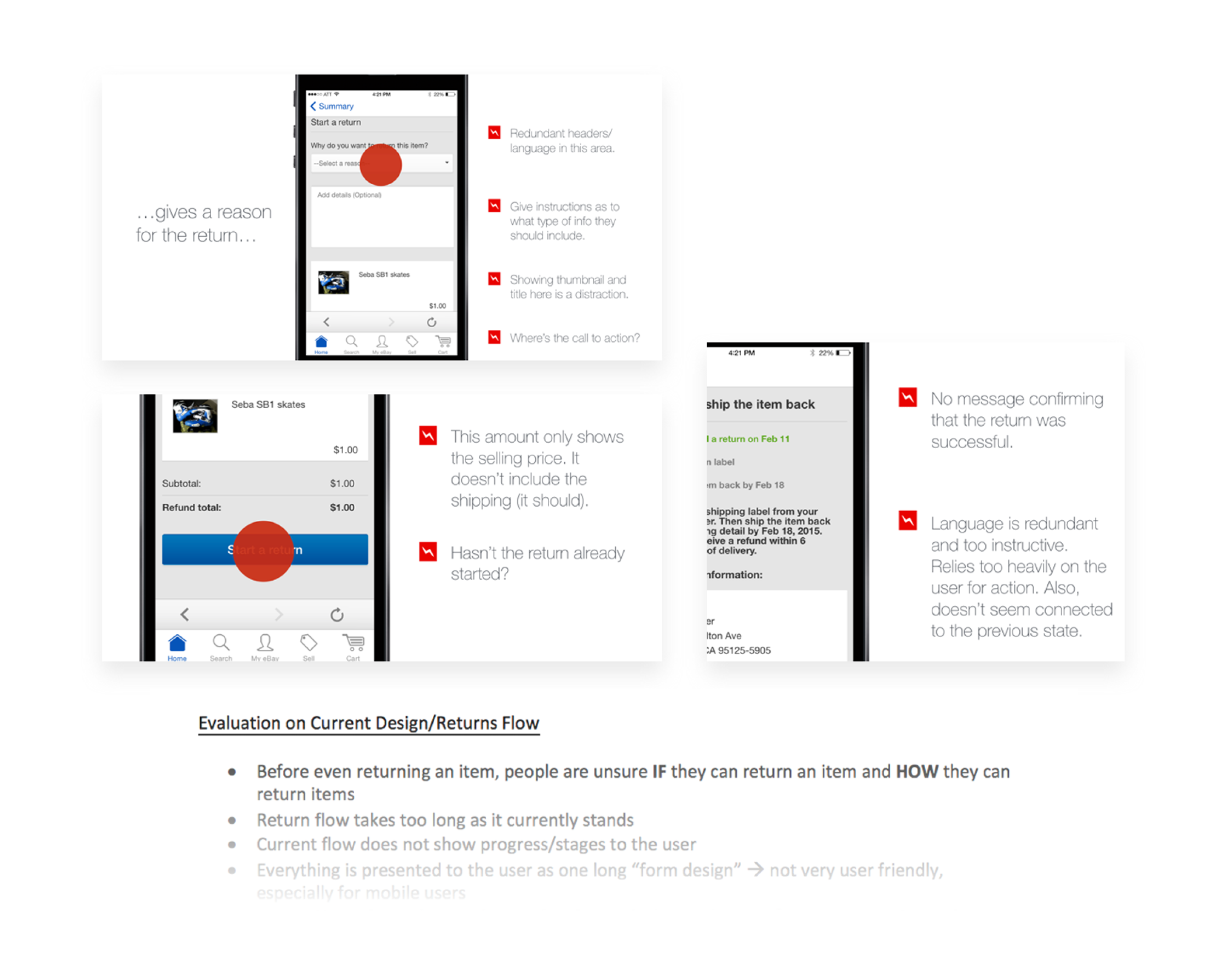 I also found that eBay has an established set of user experience principles that they evaluate their products against (Original, Simplified, Smart, Beautiful, One Experience), and I decided to list the ways the eBay returns experience breaks each of the 5 principles.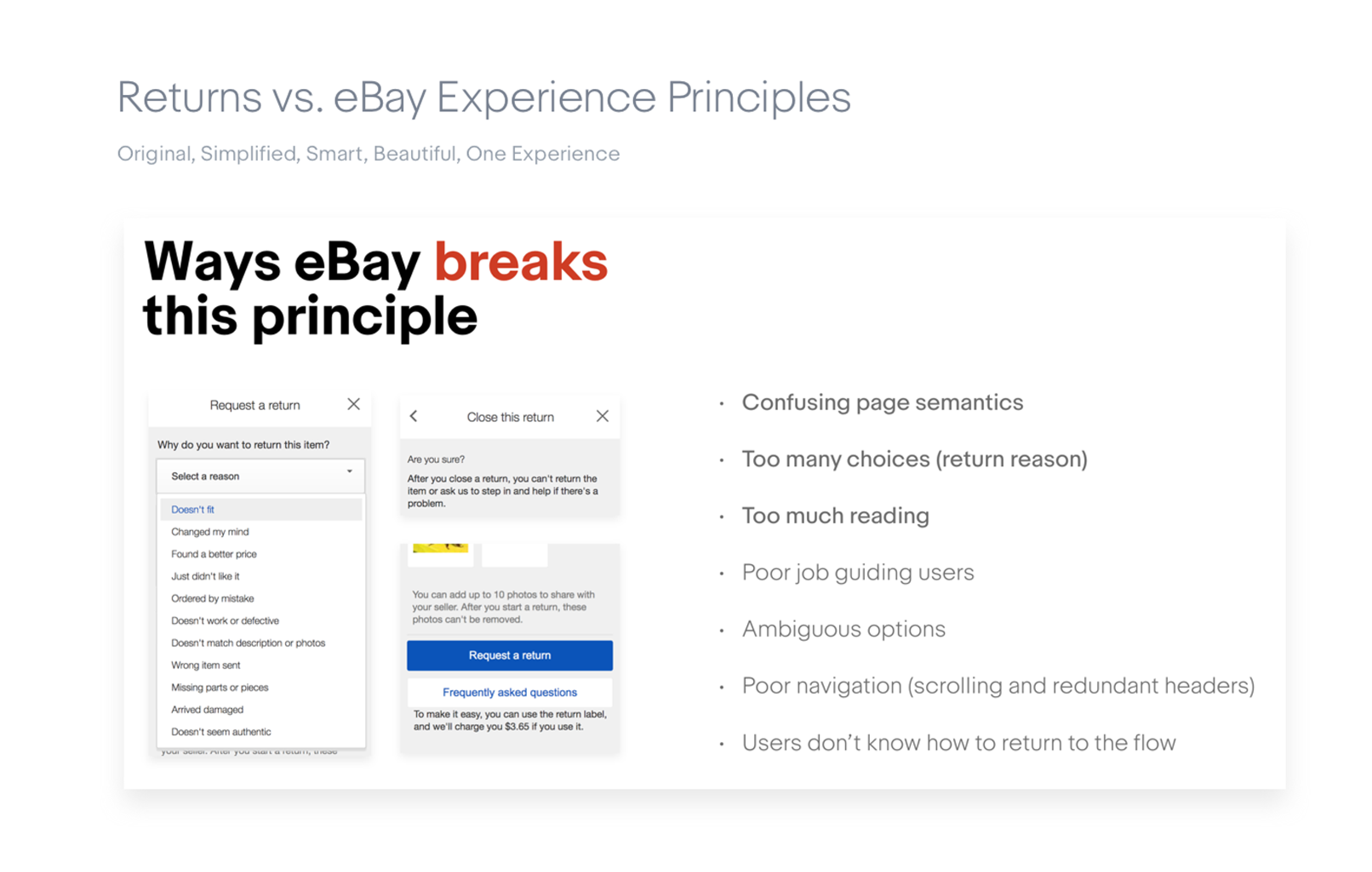 Learn about our competitors
I performed a competitive analysis on Nordstrom, Zappos, Amazon, Walmart and Macy's. The purpose of this competitive analysis was to determine the strengths and weaknesses of the competitors within eBay's market. I also wanted to determine how eBay's returns flow can be redesigned to provide a competitive advantage.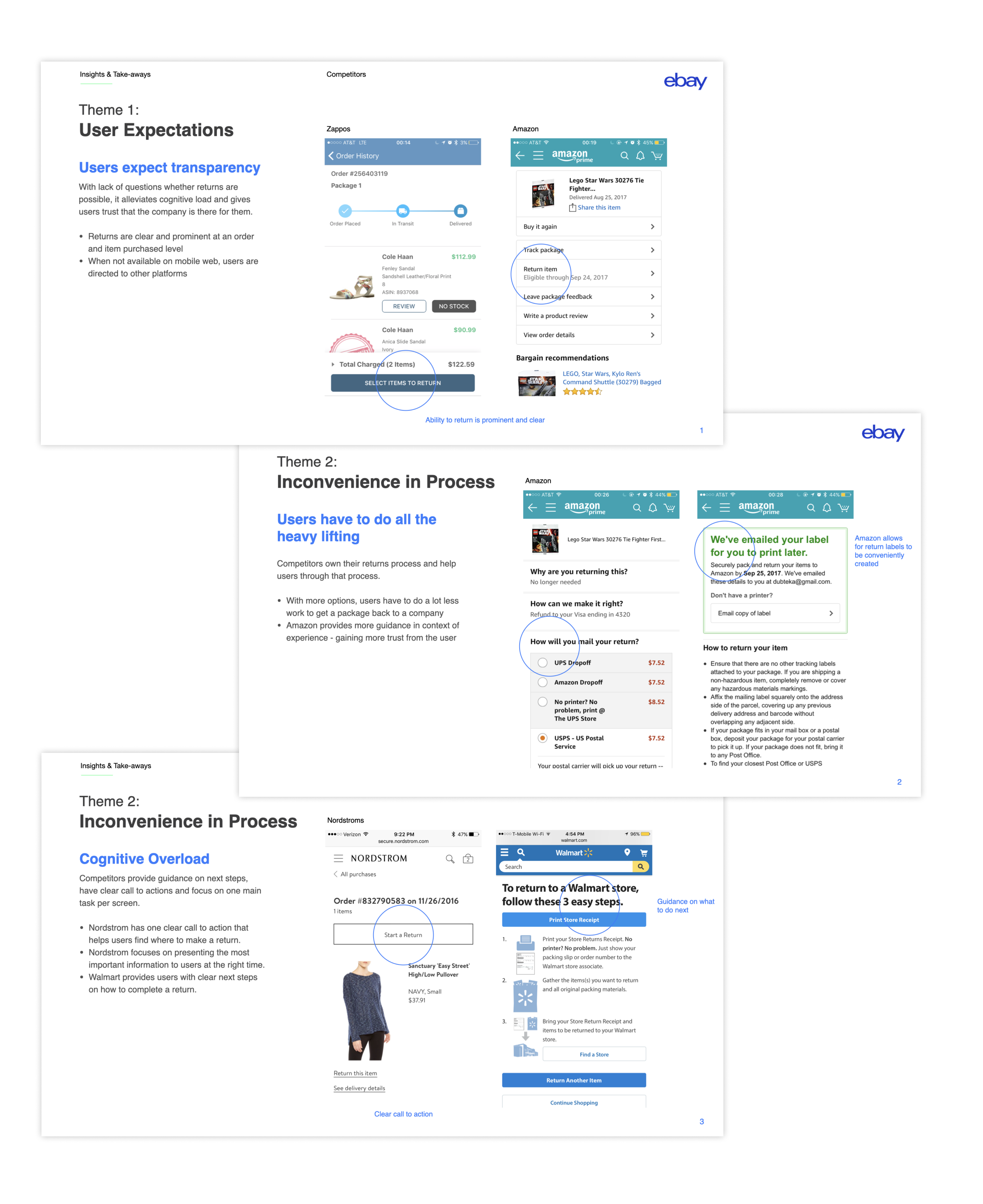 The emotional journey
At this point in the process, I've collected enough data on users, the business and competitors to visualize how a user interacts with returns on eBay through a user experience journey map. The personas and scenario have been defined, the list of touch-points have been identified, and the intentions and emotional state of the users have been taken into account below.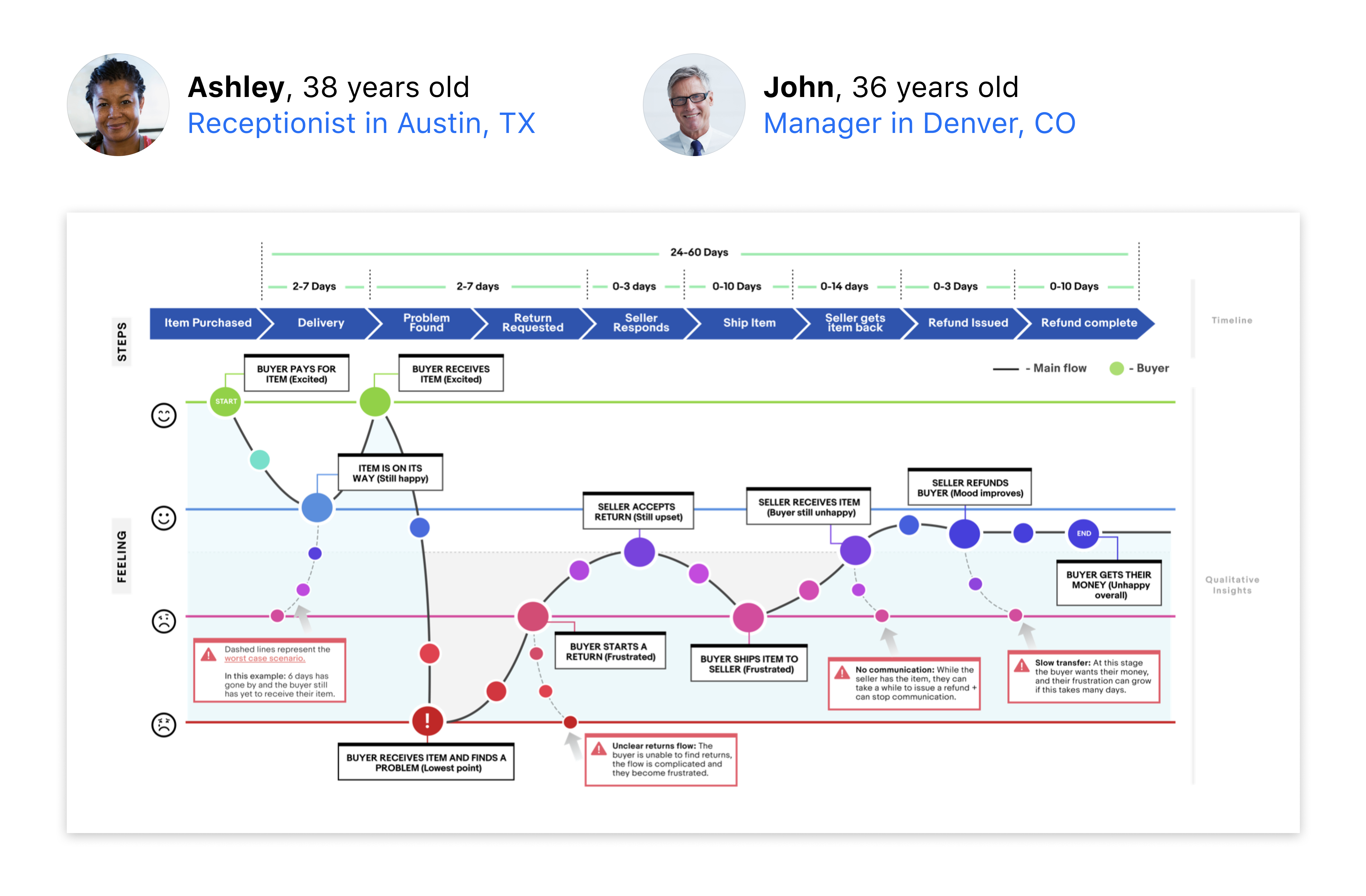 ---
Prioritize and Align on the Problem 📝
The designers working on this project worked with each other and our respective PMs to synthesize our initial findings into an agreed upon list of problems we discovered. Since it's difficult to solve for all existing problems, we identified the top 5 problems we aimed to solve for:
User expectations

Return options are not built into eBay's mWeb experience. There are no instructions on where to go to submit a return request and no instruction on where to go to conduct a return in general.

Lack of transparency

"Can I even return this?" is often the question in the eBay experience. If so, "do I have to pay for it?" These uncertainties and lack of clarity keeps users from buying as they would with eBay competitors.

Cognitive overload

eBay communicates too much information to buyers all the time, putting a heavy congnitive load on users - potentially confusing them in an already complex process.

Users expect speed

Speed can be defined in a few ways - time in process and time on task. eBay currently garners very little assurance in how quick either works for users. A typical eBay returns process can be anywhere from 15-60 days.

Not enough consistency

eBay does not meet the mark in consistency when looking at visuals, interactions, copy and CTAs, thus leading to poor usability.
---
Problem Statement
Returns on eBay was designed to be one experience, smart, on brand, simple, familiar and to ultimately resolve problems in an efficient way. We have observed that returns on eBay isn't meeting eBay's experience principles and fails to meet overall user expectations, which is causing increased calls to eBay support and user drop off while making a return.
How might we design a new returns experience so that eBay users feel confident in making returns on eBay and experience a seamless end-to-end experience?
---
Design 🖊️
Now that the team developed a focused problem statement and fully understood the problems we were solving for and our primary users, it was time to diverge on ideation and explore ideas. Each designer designed and tested their own concepts, and we met 2-3 times per week to share ideas and findings.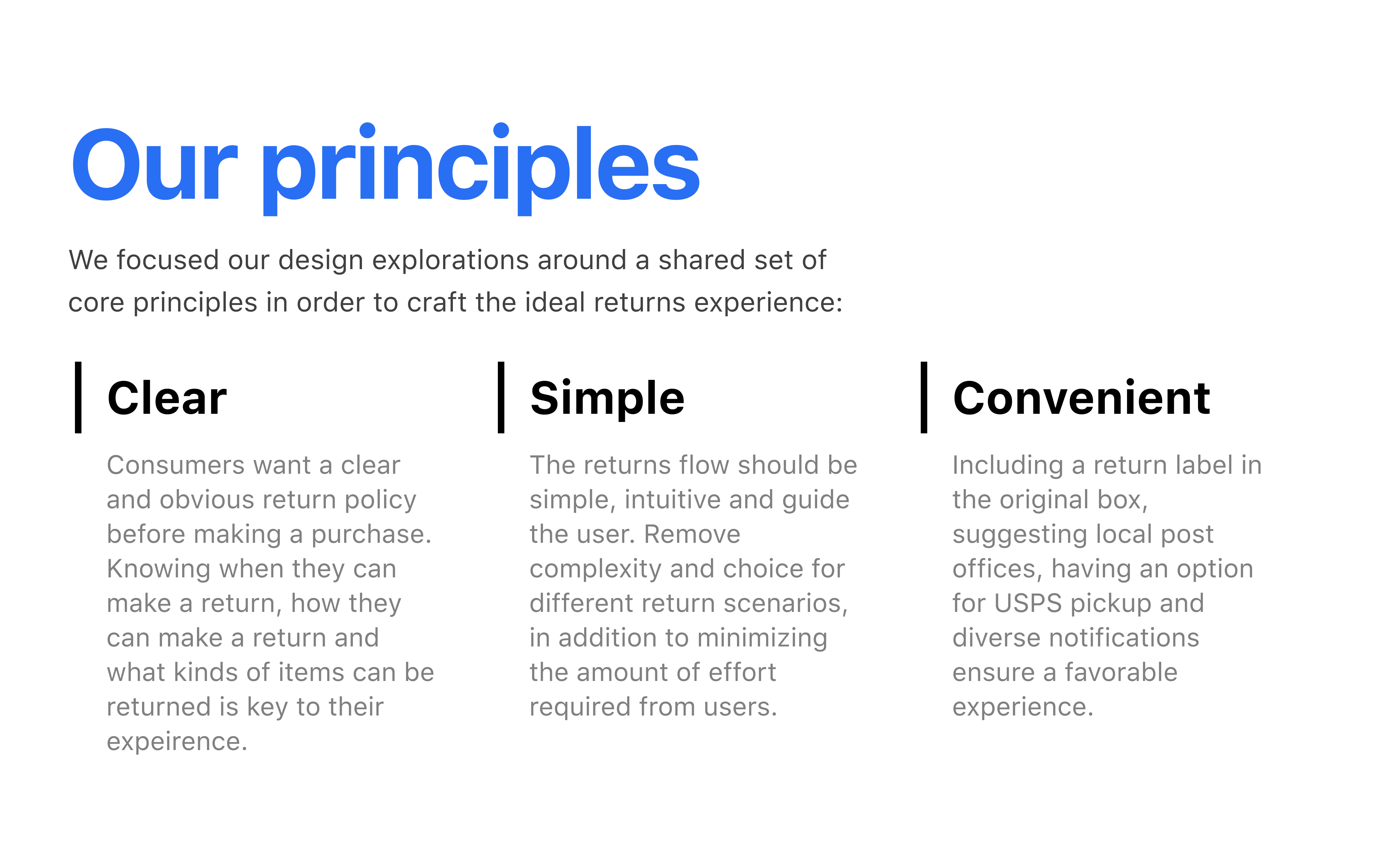 Working with constraints
Design guidelines

A transition to a new design system was happening, so I had to work with both old and new design guidelines, causing inconsistency.

Business goals

Much of the culture is optimized for operational performance, with a focus on short term goals and established goals.

Time and Budget

Short and differing deadlines caused a rush to complete designs on time. Further, funding from stakeholders has been a challenge.

User learning curve

Users have been used to a certain design and experience for many years. Innovation and a new experience can hinder learnability and overall experience.
Mapping out the timeline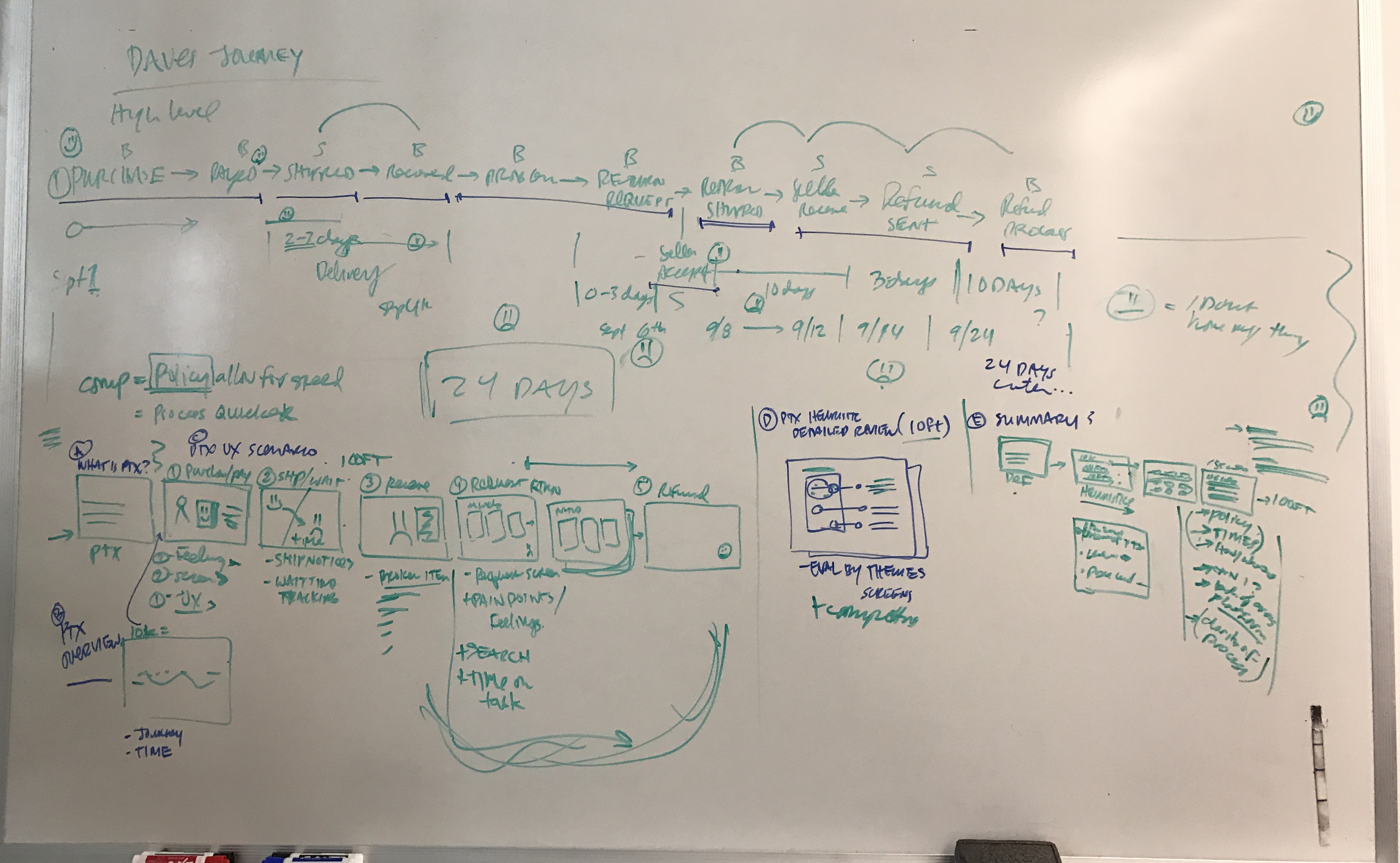 Affinity Mapping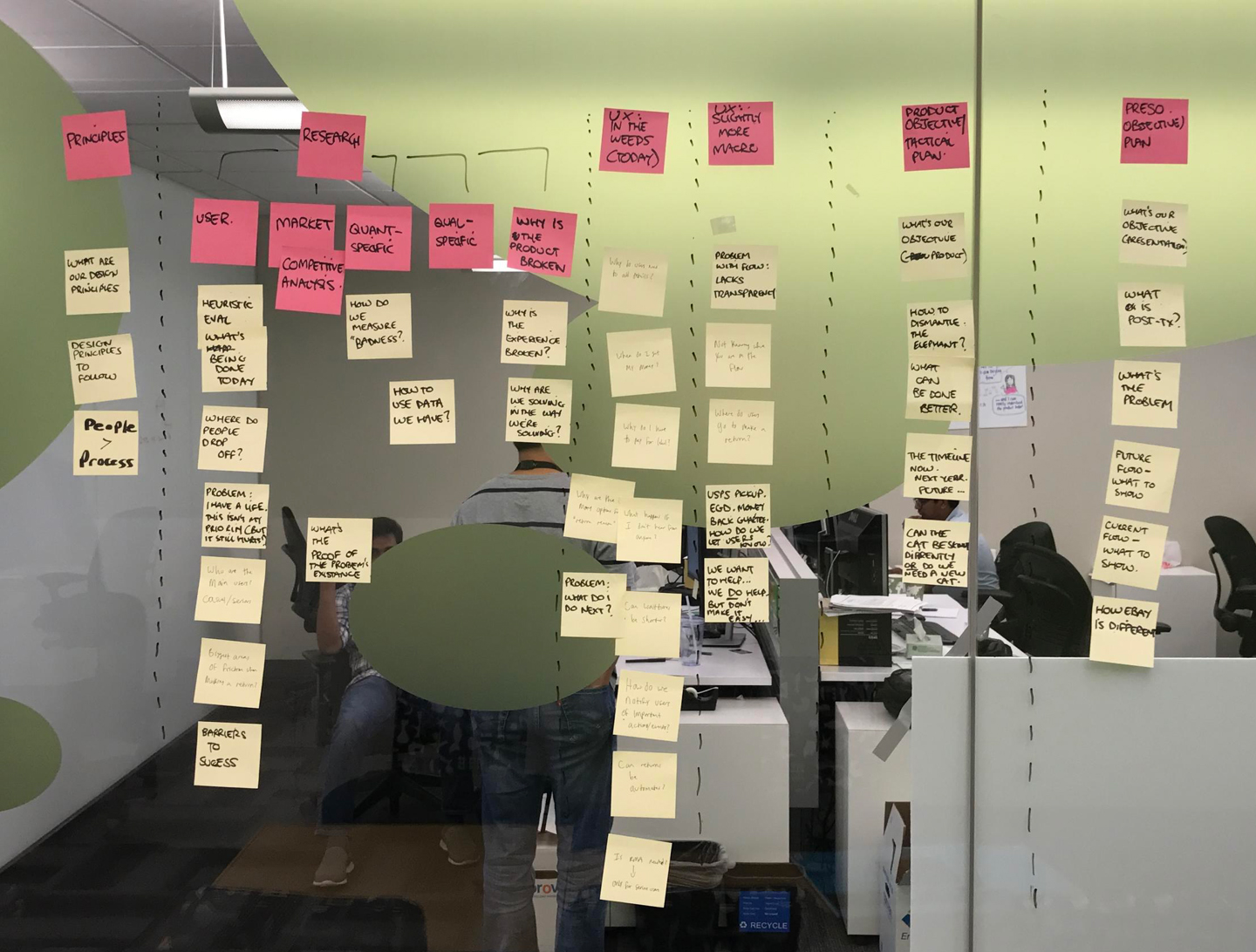 Sketch out ideas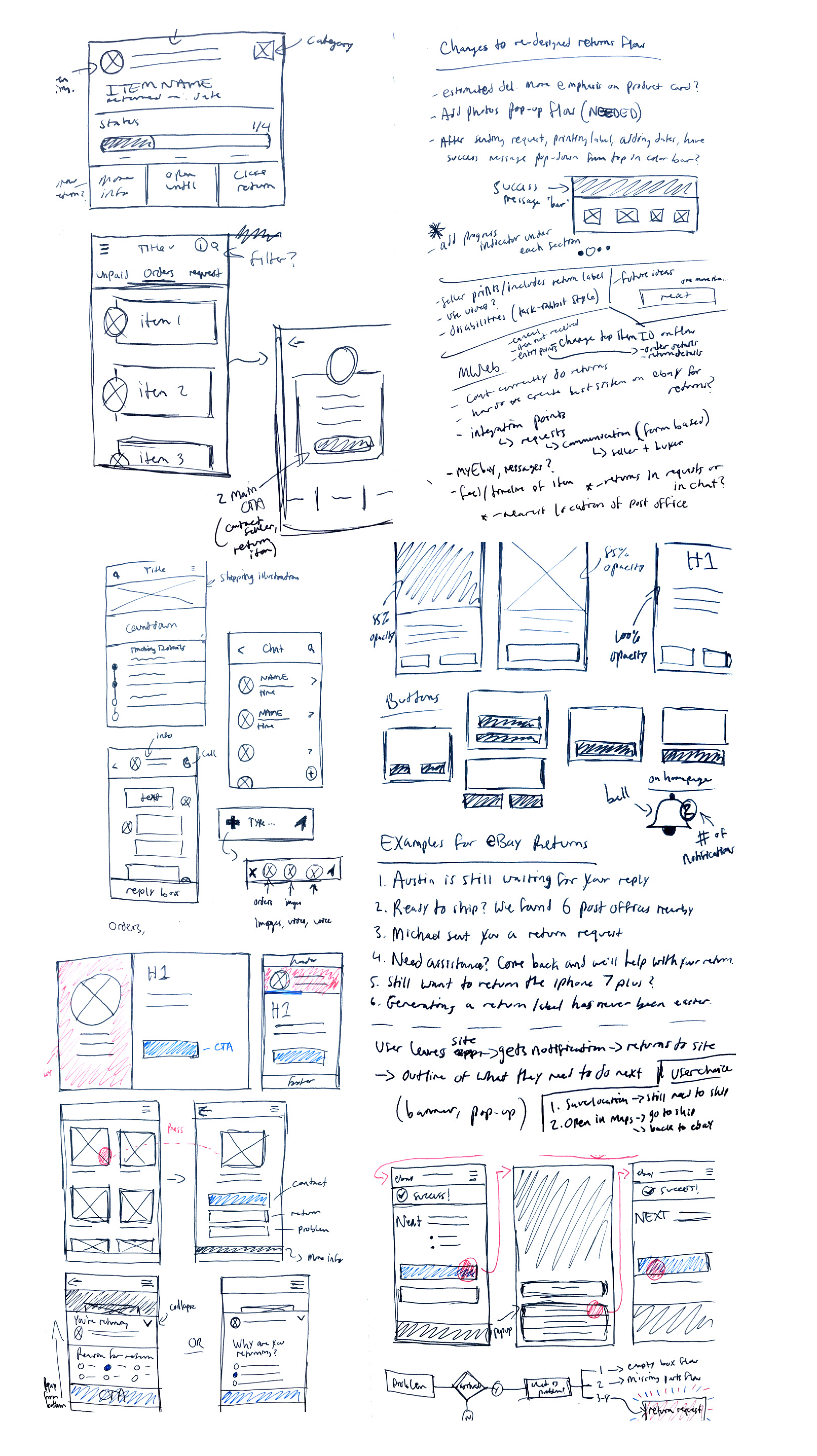 Mockups
I used Sketch for all designs and created 6 different design concepts for making a return on eBay.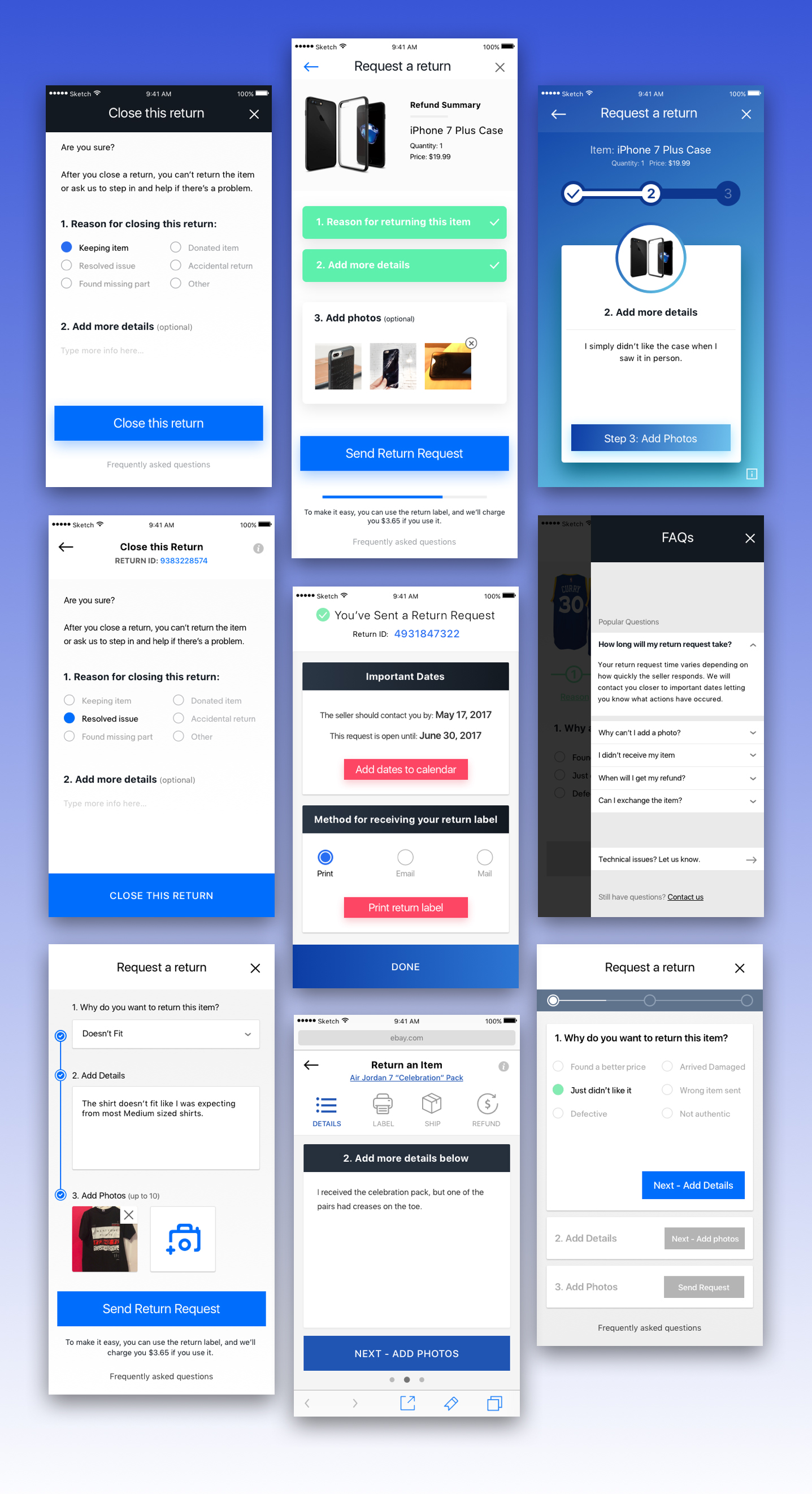 Prototypes and User Testing
I tested 6 different prototypes with 30 users who have all made a return on eBay. The type of research conducted was moderated usability testing, a/b testing and surveys for feedback. My goal was to understand how users interact with new elements in the returns flow, how long it took users to make a return, identify pain points, look for areas of delight and draw conclusions that will help me and the team craft the most intuitive and clear returns experience.
Prototype 1
What users liked

Guidance, clarity of info, reduced cognitive load, visuals and colors

What users wanted to see

More intuitive, ability to add dates to calendar, flat design, and improved timeline/progress indicator

Conclusions

While this returns flow improves a user's understanding of information being presented to them, in addition to being more visually appealing than the current design, we need to focus on a more intuitive experience that effortlessly guides users through making a return on eBay
Prototype 6
What users liked

Main actions along the bottom, feels more natural and easy to use, "Gives me more choice as a user," and feels on brand while having a clean design

What users wanted to see

Could have improved hierarchy, focus more on the timeline, more guidance and messaging, and think about the whole experience.

Conclusions

This prototype is moving in the right direction as it has improved navigation, on-brand visuals, more choice for users and is more intuitive. However, users wanted a better layout, more guidance and an end-to-end experience
---
Solution (Part 1) 🎉
One of the most important parts of my design process for this project included testing and a continuous iteration process. I was able to collect valuable feedback and data from research participants and several members of the broader design team. Iterations were made at each stage directly based on feedback from testing and input from designers, engineers and PMs. After converging on our designs and findings, we produced the following solution for a new eBay returns experience.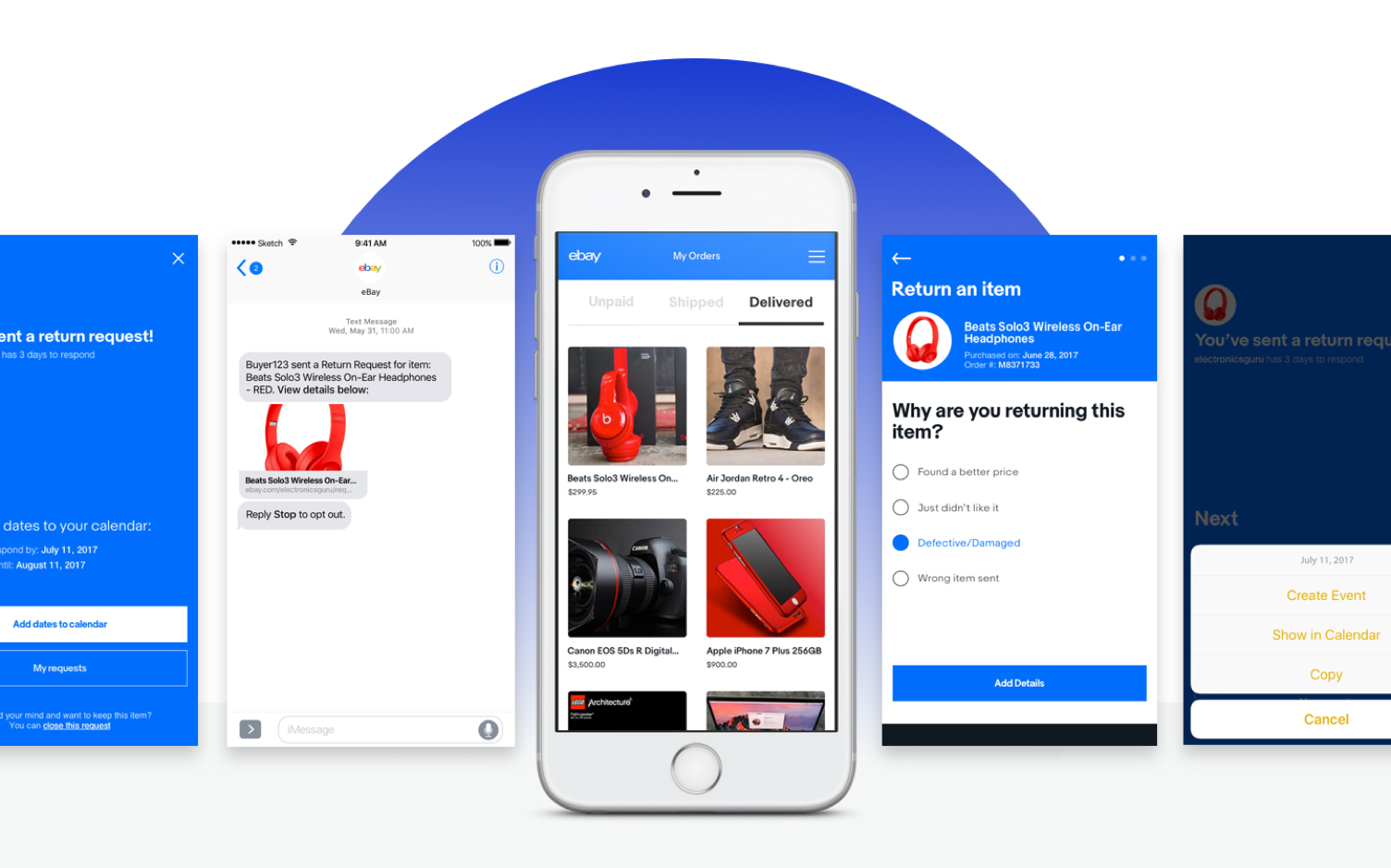 Clear, Simple and Convenient
The future of returns on eBay is one that's easy to use, understands a diverse set of users and is quick and simple to learn.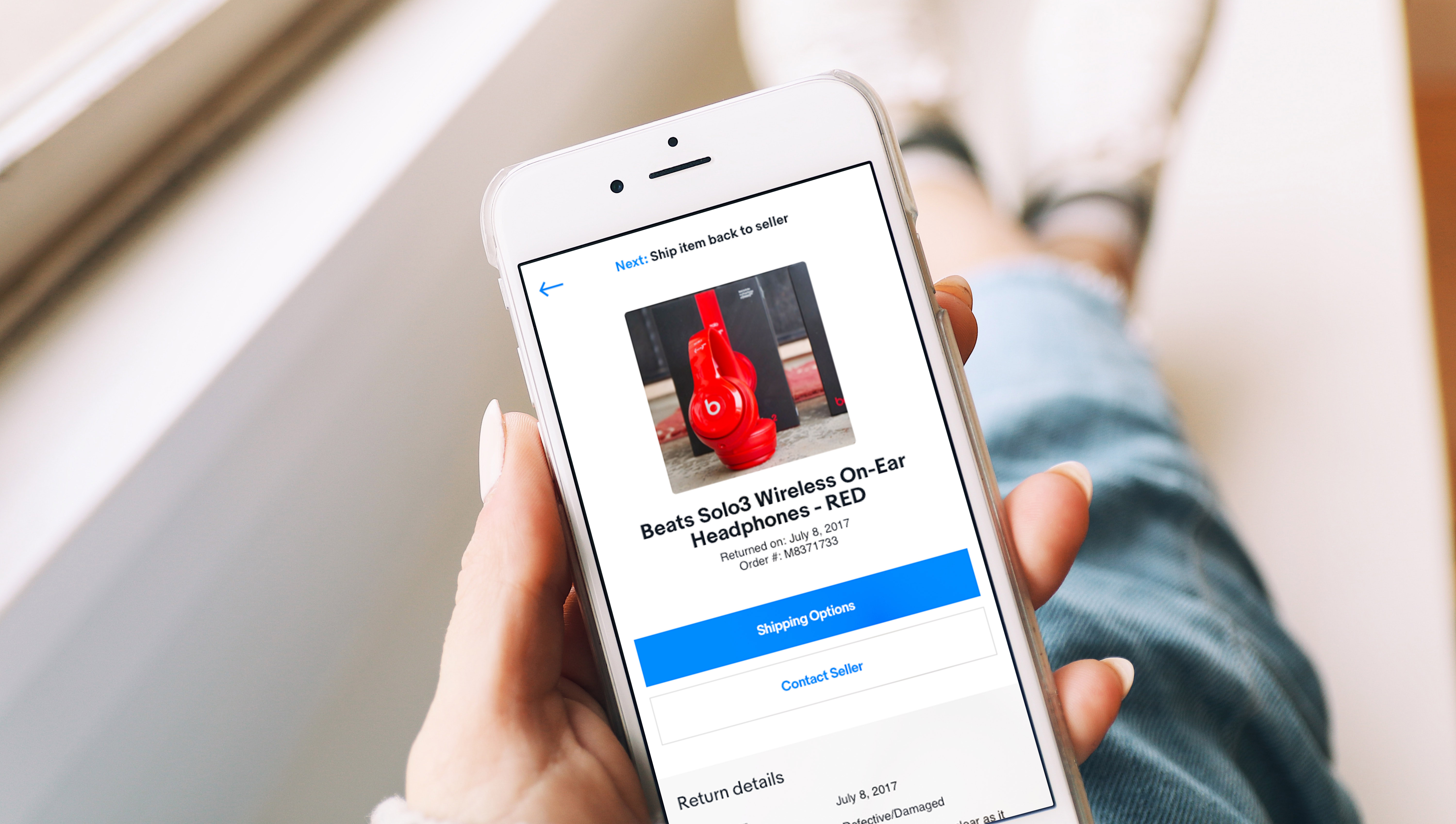 Offer users delight
The new returns experience has a clean interface that knows user needs, is intuitive and offers delight. What if after the seller has accepted the return request, eBay helps the buyer find a local post office? Can't physically go to a post office? eBay can help you schedule a free USPS pickup while keeping you within the returns flow.
Reducing cognitive load
This principle comes through in a number of ways in the new design, and it's important to note that we reduced cognitive load through UI, copy, the number of steps and overall information architecture.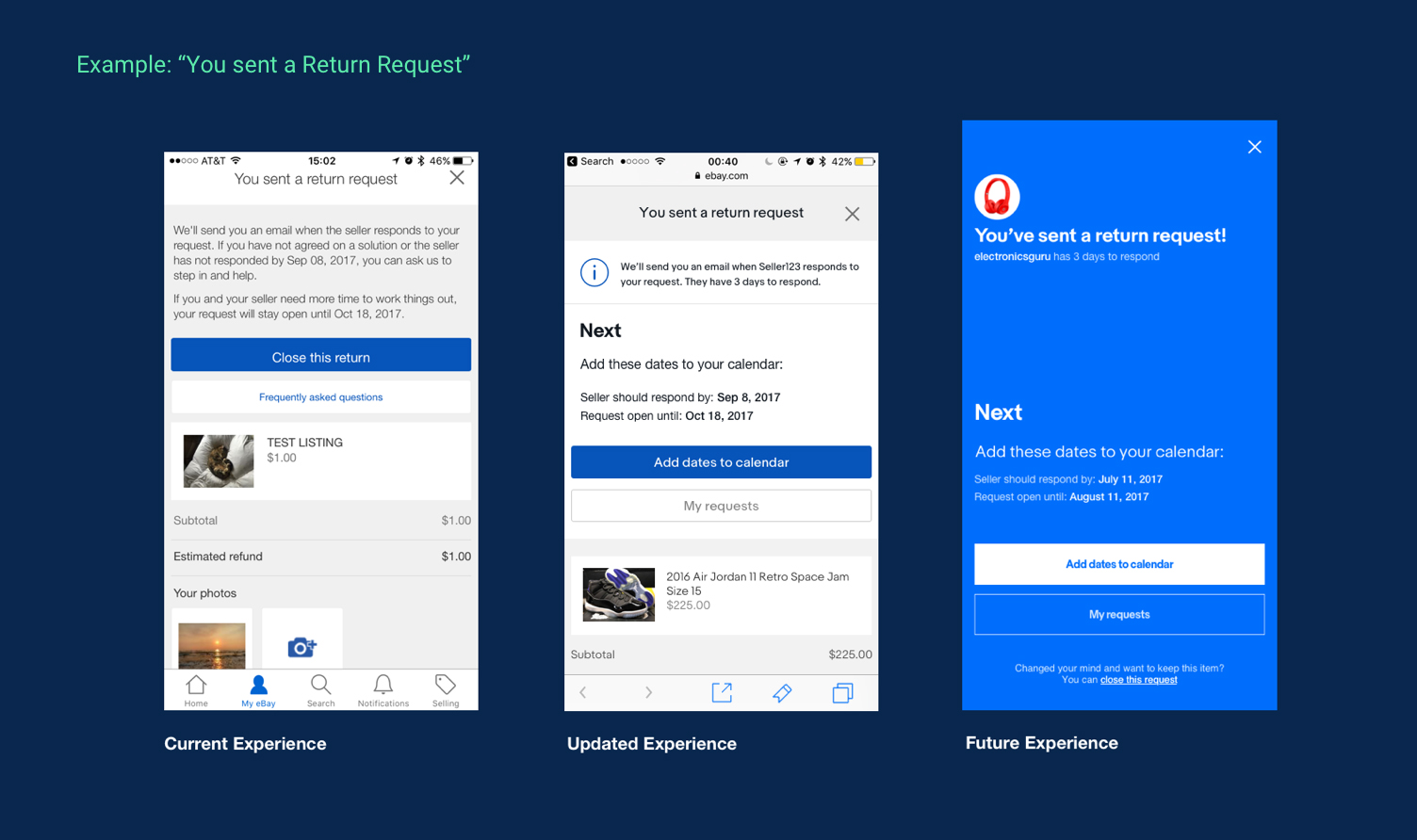 One experience
Offer users multiple ways to track their returns. One experience is an experience principle for eBay, and why should it stop on mobile? One experience can include different platforms, expansion to track returns within Facebook messenger and more. The possibilities are endless, but the experience should remain the same no matter how a user interacts with eBay.
Design decisions
Visual

New company style guide, hierarchy of info through size, color and layout of elements, kept image of item being returned, visuals/colors offer delight, different sizes, colors and styles (Importance of info, readability)

UX

Guidance throughout the return, ease of entry into a return, 1 main action per screen, user control

Interaction

Easily perform important tasks, decrease number of actions and considering multiple ways to hold a phone
---
Business Challenges 🙃
One of the main focus areas of the redesign was challenging wait times. eBay garnered very little assurance in how quick the returns process will be for users. A typical eBay returns process can be 15+ days, and all the way up to a 60 day maximum. Users see no guarantee of times when knowing control rests in the hands of sellers whims on when to process their request and refund. As a team, we recommended changing these wait times. However, given the time and level of effort this would take, managers were not willing to begin the process of changing eBay policies on wait times.
This put the design team to a halt because of an almost month long debate about this challenge. The decision was to adjust the perceived wait time for the users through messaging and notifications. Currently, users express a need for more communication from eBay and the other user involved in the transaction. By designing messaging and notifications, in addition to determining when and why users will see them, our goal was to reduce the amount of time-based friction users were experiencing. However, this also meant that we needed to revisit certain parts of our user flows to account for this change.
Please find additional stakeholder feedback below.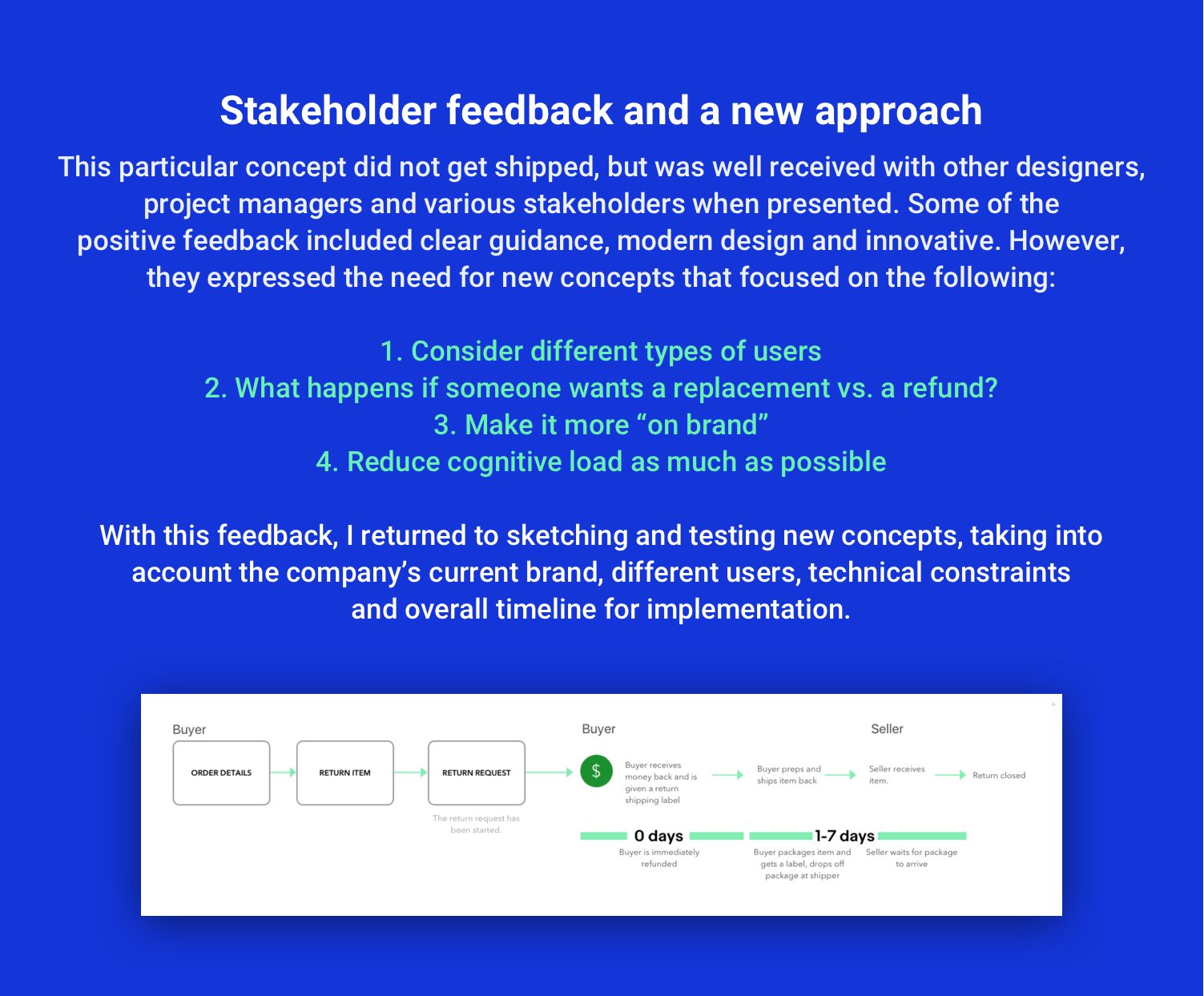 ---
Solution (Part 2) 🎉
We borrowed many ideas and concepts from our first solution, but our revised approach focused on reducing complexity and ensuring users had choice and clear instructions on what just happened and what happens next. We also revisited the friction areas users expressed (i.e. guidance, general design, lack of communication and not intuitive) and added elements throughout the returns flow that directly improved these areas.
Solution (Video)
---
Measuring Success 📈
This project took much longer to move into development than initially planned because of internal delays and re-prioritizing projects. During this time, I accepted a new role and left the project. As a team, we were able to measure several success metrics during user testing, and also created a list of other ways we would measure success.
Ones with a "✔️" mean we measured these during user testing:
Reduced drop offs ✔️
Fewer users contacting eBay
Session length ✔️
Number of completed returns
Time to return flow when notified ✔️
Reduce number of uninstalls (native app)
Page load times ✔️
Positive messaging between users
Direct user feedback ✔️
---
Takeaways + What would I change? 💡
Overall, this project was a success in a number of ways. Prior to joining the team, eBay provided no funding to redesigning the returns experience because they felt that it was not a top priority to dedicate money and resources towards. Once I joined the team, our main priority for the first few months was creating a compelling case for redesigning and rethinking the returns experience on eBay. Through several early rounds of user research, wireframing, mockups, prototypes and presentations, we received full support and funding from leadership to dive deeper into creating a completely new returns experience.
The main parts I would change involve our approach and process. Our team took a different approach to this redesign, and its one that I believe ultimately set us back. Instead of having fluid collaboration and frequent communication, the 4 designers separated and designed on our own. We would come together a couple times a week to share ideas and brainstorm to further narrow our ideas down to a small list; however, this took much more time and effort and we continued to find that we were not always aligned in our approach and thinking. This was reflected in several presentations that we gave to executives and managers (specifically early on).
In addition, one of our main solutions involved changing the wait times on eBay. We quickly found out that eBay was unable to change policies within our timeframe. This prolonged our design process because we were waiting for feedback on this change of policy ask that we requested. Another difficulty we ran into was that different teams own different parts of the UI. Therefore, some solutions we recommended were rejected because of team cost, time and team ownership. A final aspect of this project I would change is having each designer own their design completed, including prototypes. I was responsible for all prototypes in this project, and this includes the other designers mockups. There were several instances where I prototyped 6-8 different user paths in a couple of hours before a deadline because we were not all on track for a completion time and date. There was also some confusion at times when figuring out which screen went where in the flow. Better naming conventions and a proper handoff would have solved this challenge.
---
You've reached the end of this case study!
If you made it this far, thanks so much for reading through this case study! I hope you've gained some insight into my role and the problems we were solving for returns at eBay.
Want to see more projects? Click one of the links below:

Next: "Doyenne" - A female mentorship app
Previous: "Apple" - Online training in ATLAS